Angela Submissive, Fetish, BDSM and Role Play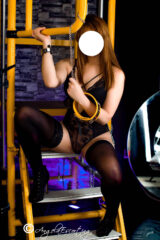 I have a bubbly personality and am usually full of smiles or giggles. You will find that I am easy to talk to and like a good chat, so do not hesitate to tell me your thoughts or stories if you are in the mood – I am a good listener. I am from South Africa so do not be put off by my blunt nature (at times – we like to be upfront), I am just honest and passionate really.
I have an hourglass figure – curvy, but a slim girl with a nice buttock. I am 5'2 with medium-sized boobs. My hair is naturally brunette, but I like to mix it up occasionally. I like to look good when I go out, so I maintain my appearance and my health. Behind closed doors, I like to look good too, but in what you want me to wear so that I can satisfy your every desire.
I like to go on a sexual adventure and get lost in that world. It is an escape of reality and boring routine. The thought of being dominated and the fantasy of being abducted or a mistress has always excited me. My most thrilling occasion is to be tied up or handcuffed. I just love the feeling of being restrained. On my vanilla side I do like a bit of fun with roleplay, dressing up for my Dom or "boss" gives me pleasure. I love to be taught how to behave.
Contact Angela: website Angela Submissive, Fetish, BDSM and Role Play