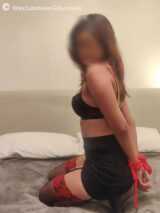 I am Amira, I'm a natural brunette, a petite beautiful Indian sweetheart, 5'4" with a size 6 figure who would love to be given the opportunity to obey you as I am willing to be under your control, Sir.
I have a genuine thirst to please and am at my happiest when tied and gagged with a paddle, tawse or cane being repeatedly applied to my cute bottom, all by your doing Sir.
I love it when my naughty bare bottom gets soundly polished displaying a nice Scarlette glow and I thrive on being told exactly what to do, from how to address you, Sir, to how to sit, as well as being corrected for my misbehaviour.
Contact Amira Submissive: phone 074508 73814, website Amira London Submissive