Classy Charlotte Manchester Escort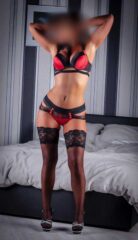 My name is Charlotte, and I am a gorgeous independent English brunette based in Manchester. I'm tall at 5'9″ with beautiful long shapely legs leading to a fabulous, slim, and curvy hourglass figure. I am intelligent and articulate but also chatty, friendly, flirty & very naughty!
I am a professional businesswoman and escorting is my secret hobby! I am single and I just love to have naughty fun! I'm intelligent and articulate, flirtatious, chatty & fun loving. I am very passionate, tactile and sensual. I love giving pleasure and being pleasured, I adore giving the most amazing oral and if you like to reciprocate, I'm told I have a gorgeous, sweet taste.
I would love to meet you and I can bring some seductive lingerie, toys, massage oil and my naughty self and we can indulge in lots of mutual pleasure. I'm 100% reliable and if there is anything else you would like to know about me then please feel free to ask. I have excellent feedback and check out my website.
Contact Classy Charlotte Manchester Escort: phone 07788 671902, website Classy Lady Manchester Escort