Emily Cole – Your professional girlfriend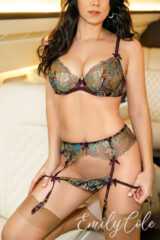 Emily Cole is a busty 5"6 British lady. She is a Psychotherapist by day. Predominantly based in London Emily likes to explore her naughty side with discerning professional gentlemen in her spare time. Emily provides a refreshing girlfriend experience on an outcall only basis. Well-groomed and corporately dressed you can meet Emily anywhere and she will fit in well.
Emily is well educated and most of all lots of fun. She is a sensual and irresistible lover and someone who loves to deluge her lovers with affection. She delights in passionate sex, consequently, there will be nothing more thrilling than encountering this ardent paramour. She is bisexual, enjoys romping with women and men or both.
Contact Emily Cole from Bristol and London: website: Emily Cole GFE Escort