London Domination – London Mistress Charlotte for role play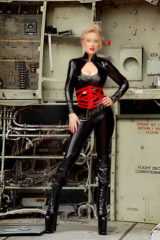 Looking for London Domination? Have you found the right Mistress for you? Look no further, London Mistress Charlotte oozes sophistication who loves nothing more than to tie and tease you. She adores being worshipped from head to toe. If you are looking for pleasure and pain, then you have come to the right place. She also specialises in Adult Baby Minding, Feminization, BDSM and kinks.
She is experienced, in her 30's. A British mistress with blonde hair. Her bust is a 34GG, which makes it doubly painful watching her as she punishes you. She enjoys role play and provides the following.
Mistress – where her interest flow from Adult Baby Minding through to Whipping.
Internal Interrogation Officer where she acts as the first-class customs officer who performs an internal search on you for contraband.
French Maid where she teases you by bending down in her skirt, cleaning you in the shower before becoming demanding and making you clean.
Office Bitch, you have let me down, so you are thrashed as I show my anger on you.
Aristocratic Snob, I look down on you and treat you as a compost heap. You serve me Champagne from wherever I like it poured.
Spiteful Stepmother, you have been watching porn again, and I threaten to humiliate you. However, I may change my mind and you are mine to command.
And more London Domination Role Play
Contact Mistress Charlotte: phone 07702 620499, website London Mistress