Tyra Knight – Ebony Escorts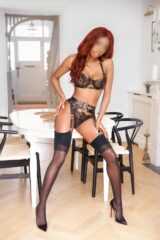 Hey there! I'm Tyra, a high-spirited, outgoing lady in her 20s. I love the company of mature, intellectual men, where there is a chemistry so strong, we can each feel our magnetic energy for each other. We all deserve a heavenly dichotomy where we each feel completely fulfilled, yet desperately crave more of each other.
I'm a sophisticated and sensual companion based in London and beyond. I offer a luxurious experience for gentlemen (far and near) seeking a sexy, enchanting companion and confidante with whom they can create wonderful and lasting memories. I can be a passionate, affectionate girlfriend who is easy-going enough for you to kick back and unwind with, allowing all your stress and problems to melt away. Above all else, I love being the seductive girlfriend where I'll lead you to the bedroom and spoil you after a long, tedious day at work.
I'm currently educated to an undergraduate level (BSc (Hons) Human Biosciences) and studying for my master's degree at a prestigious university. My interests include biology, sociology, politics, history, theatre and more. So, if you enjoy having profound and meaningful conversations, I'm the girl for you! I have a very inquisitive mind and I love learning about my lovers' thoughts and interests.
I have an insatiable love for the arts, music, and the sciences. You can often find me in the halls of the National Gallery. Or perhaps you could find me in the local library with my head immersed in a book, engrossed in a novelist's world. I am also passionate about dancing, specifically salsa, going to the theatre, playing the piano, and travelling.
I am all-natural, with no enhancements or tattoos and minimal piercings. From my 24″ waist and tight derriere, to my seductive, big brown eyes and plump lips, I'm sure I will be a girlfriend you can most certainly show off with confidence!
Contact Tyra Knight, website: London Ebony Escort, phone +447845059722